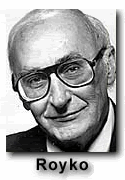 Most BearOnBusiness readers probably never heard of Mike Royko. He died in 1997, presumably before the first blog was ever written. Upon reflection, I believe Royko influenced my writing style. I imagine he really got a kick on what he did for a living, in the same way perhaps that I am enjoying writing this blog.
My grandfather cherished Mike Royko. I did too. My grandpa's interest is what led me to discover Royko.
Mike Royko was a fixture in the Chicago Tribune (and, earlier, the Chicago Sun Times), writing a column five times a week for 33 years. As he became better recognized, his columns were wildly syndicated, appearing in in 800 papers nationwide. His journalistic awards included a 1972 Pulitzer Prize for commentary, the Ernie Pyle Memorial Award, the National Headliner Award, the Heywood Broun Award of the American Newspaper Guild, and the first H.L. Mencken Award presented by the Baltimore Sun.
Mike Royko wrote about the city of Chicago. Early in his career, when he expressed interest in writing a daily column, he explained: "I said I'd use satire. There's a lot of things people have never been told. Straight reporting doesn't tell it. I felt nobody had ever really described what a City Council meeting was like, what aldermen were like, what a County Board meeting was like."  I recall with fondness how Royko used satire to create very humorous situations.
An example of Mike Royko's wit: "It's true that Burke has long been considered the smartest of all aldermen — as well as the best dressed and having the most sleek hairstyles. But it is all relative. Being the smartest alderman in Chicago's City Council is something like being the tallest midget in the circus."
Royko often wrote about the first Mayor Richard Daley of Chicago. Royko reflected on Daley at the time of his death; it has been pointed out by others that the comments could be just as easily been depicting Royko himself:
"In some ways, he was this town at its best — strong, hard-driving, working feverishly, pushing, building, driven by ambitions so big they seemed Texas-boastful. In other ways, he was this city at its worst — arrogant, crude, conniving, ruthless, suspicious, intolerant. He wasn't graceful, suave, witty or smooth. But, then, this is not Paris or San Francisco. He was raucous, sentimental, hot-tempered, practical, simple, devious, big, and powerful. This is, after all, Chicago."
[Some of this post is paraphrased from an article that popped up when I Googled Mike Royko. Barracuda Magazine, whatever that might be, appears to have been the source.]