In May of 2008, my son Danny and I went to the Colorado Avalanche game.  Adam Foote was back and we wanted to see him in an Avs uniform again.
Adam Foote played for the team from 1995 through 2004, and was a key defender on the team when they twice won the Stanley Cup.  Seeing Adam back in a Colorado uniform brought back a fond memory.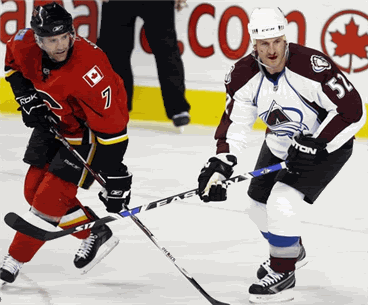 Years ago, Adam made a lasting impression on my son Danny. Though Danny met Adam only briefly, I suspect that Adam made a meaningful contribution to Danny's character. Oh, by the way, Danny is a darn good hockey player and Adam Foote remains his all-time favorite player.
The 51st National League All-Star Game took place on February 4, 2001 at the Pepsi Center in Colorado. The skills competition took place the day before. I brought my son and we had a great time. Anaheim Mighty Ducks' Paul Kariya won his third straight puck control relay event and Boston Bruins' Ray Bourgue came in first in the shooting accuracy competition.  My friend Marty and his son Christopher joined us at the event. Though Colorado's #52 wasn't in the game, my then 6-year-old son wore his Adam Foote jersey.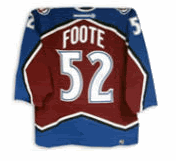 Afterwards, we went to the Denver Chop House for dinner. About an hour later, a buzz went through the place that several sports players were hanging out in the bar area. Larry Walker was among them. So was Adam Foote.
I am not the type of guy to bother people in the public eye. However, my buddy Marty is. So Marty took Danny up to Adam Foote to see about getting an autograph.   As my son walked up, Adam smiled ear-to-ear. Adam was already an NHL veteran and was very popular in Colorado. Nonetheless, you would have thought it was the first time he noticed anyone other than himself wearing an Adam Foote jersey.
"You've got my jersey on. How cool. I have to bring you to my wife." He brought Danny over to his wife and they talked for a short while. He then signed Danny's jersey–and we cherish it to this day.
What happened next was what made the day so memorable.  An hour or so passed and it was time to go. The restaurant was crowded, especially around the bar where the athletes were hanging out. Marty, his son, Danny and I were leaving. As we walked out of the main door, I turned around. No Danny. Marty, Christopher and I looked at each other and, perhaps overreacting a bit, I rushed back in. I looked around frantically and then spotted him in the very crowded bar area.
Again, he was only six years old, so he was hard for anyone to notice him.
I caught him just as he pushed against Larry Walker's leg, nudging the Colorado Rockies all star out of his way. He stood in the circle of Walker and 3 or 4 others, including Colorado's #52. He looked up at Foote and waved goodbye. Though I couldn't hear Foote, he let out a good belly laugh as he caught Danny moving Walker aside. He picked up Danny and wished him well.
Danny, now 16, is a solid defenseman in competitive hockey.  He is always the one that goes out of the way to tap the shin guard of his goalie, just like he saw Adam Foote do oh so many times.  Thank you Adam Foote. You made a difference in two peoples' lives that day.